6 Benefits of Buying a New or Used Toyota at Riley Toyota
6 Benefits of Buying a New or Used Toyota at Riley Toyota
Toyotas last a lifetime, and choosing to buy a Toyota from a dealership which has won Toyota's Highest Award - "The President's Award" - for 2007, 2009, 2011, 2013, 2015 and 2016 ensures you get exemplary service every step of the way.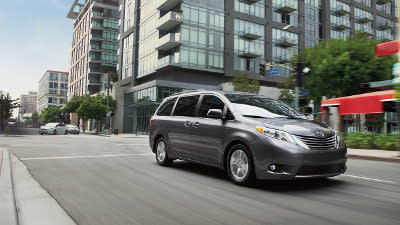 For over 25 years now, Riley Toyota has often been considered the best car dealership in Missouri. Over the years, several other dealerships have sprung up when you search for a 'used car dealership near me'. However, we can assure you we still stand apart from the rest if you are not already convinced by our awards and track record.
Here are six reasons that when you are looking for that 'used car dealership near me' you should choose Riley Toyota.
1. Widest Range of New Vehicles
One look at our 'New Vehicle' section and you will realize that we have over 6,000 variants of new vehicle models on sale. Now isn't that a mind-boggling number for a single dealership? On-site at Riley Toyota alone we have around 200 vehicles on sale. It's good to know that every possible combination of engine, trim level and special features can be ordered all under one roof The Toyota brand has an unrivaled wide collection of models, from the Camry to the Corolla, the Tundra to the 4Runner, the Yaris to the Avalon, the Prius to the Land Cruiser - we have them all!
2. Value Trade-in
Car buying can be a costly and lengthy process and this is also true for selling a car. If you already own a car and are planning to upgrade, Riley Toyota can offer you a high-value trade-in for your vehicle. It doesn't matter if you are looking for a brand new model or a pre-owned Toyota in Missouri we have trade-ins for every type of vehicle, regardless of whether you own a Toyota at the moment.
Selling on the private market takes time and there are constant low-ballers and potential scammers. Why deal with all that hassle when you can get a comparable rate direct from the dealer? We will then be able to offset the value of your car against the new purchase.
There is also our Kelley Blue Book Instant Trade-in offer. Of course, there's no reason to go into the car-buying process without first knowing the trade-in value of your vehicle. The Kelley Blue Book has been the ultimate guide for determining car trade-in value since 1926; now that is almost as long as there have been cars! Kelley Blue Book has maintained an online version of its pricing information since 1995, and today we have access to it, helping you pre-determine the value of your vehicle.
Now isn't that a nice way to cut down on the hassles of selling your car and buying a new one?
3. We Handle Financing
The Riley Toyota financing team are experts that get the very best financing for you. Right from the finance application to offering you active incentives, they take care of it all. You can be sure that approval for your application will be virtually instant and the interest rates you will pay will be the lowest in the business.
4. Pre-Owned Car Dealership in Missouri
As one of the largest new and used car dealerships in Missouri, we are sure to have the vehicle you want. You can save a lot of money if you choose to buy pre-owned instead of new. Our pre-owned vehicles are not limited to the Toyota brand as we have a wide collection of all types of cars across brands! The vehicles have CarFax and Autocheck reports to give you complete peace of mind. There are no lemons at Riley Toyota!
5. The Experience of Buying
With changing times, buying or selling a car is no longer just the business of selling a product. Slowly yet steadily, the business has become more of a service, where the focus is shifting towards the customer's buying experience. Having realized this early, we make the best effort to cater to your every need.
As soon as you step inside our state-famous dealership, our highly trained and friendly staff awaits to greet you. All you have to do is let us know the vehicle of your choice and our staff will be ready with its keys to take you out for a test drive. By the time you are back from your drive, our finance team will be ready with a tailor-made offer for your purchase.
6. It's All About Maintenance of Relations
Our rival dealerships chasing customers to buy their products is a common occurrence. However, the same dealerships look away after a couple of months when it comes to servicing. We at Riley Toyota always look to maintain healthy relations with our customers, and this can only be maintained with the high-quality servicing of your vehicle in-house using state-of-the-art equipment.
Just one service at our center and we bet you will place your faith in us for the rest of the life of your car!