About Us
For a quarter of a century, Riley Toyota has served Central Missouri as one of the best new and used vehicle dealership in the state. With awesome deals on both new and used vehicles, we're proud to call ourselves the most versatile and accomplished dealership in our area.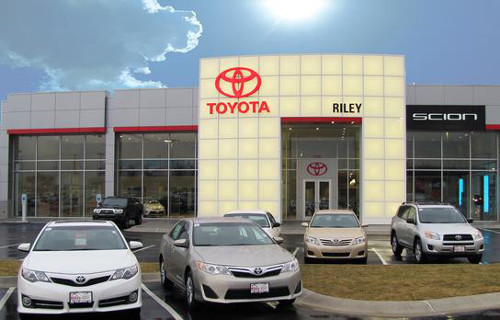 Don't take our word for it though, the awards and certificates speak for themselves. In 2006 Kevin Riley was awarded the Time Magazine Quality Dealer Award, along with Toyota's Highest Award "The President's Award" for 2007, 2009, 2011, 2013, 2015 and 2016. If that doesn't speak in volume of our quality of service and dependability, then nothing does.
There are a couple of things separating us from most dealerships, all of which put us a class above everyone else. All of our loyal and satisfied customers will attend to this statement.
Riley Toyota Dealership in Jefferson City
For 2017, Riley Toyota is offering you more than ever before, with a couple of firsts.
For starters, we have the Riley Toyota Lifetime Warranty! Available with participating Dealers, the Lifetime Limited Non-Factory Warranty is valid at participating repair facilities in the US and Canada. For more details regarding coverage, please see the specific dealer in your area. We're glad to be one of the few dealerships to offer unlimited years and miles on a lot of our warranties. We're honored anywhere in the U.S. and Canada.
Riley Toyota has been serving the Mid-Missouri area for well over two decades now, and we don't intend to stop anytime soon. Recognized as one of the top Toyota Dealers in Central Missouri, we're extremely proud to offer the amazing products from what is arguably the best manufacturer in the world.
We are just a short drive from Ashland, Tipton, Columbia, Lake Of The Ozarks, St. Martin's, Fulton, California, Centertown, Russellville, Eldon, Osage Beach, Tuscumbia, Holts Summit, Linn, Versailles, Hartsburg, and New Bloomfield. You can visit us anytime and take a look at the vehicles on offer in the flesh. Better yet, we encourage you to take one for a test drive and see how you like it. Chances are, we have a vehicle to match your needs and specific requirements no matter what they are.
Riley Toyota specializes in world-class customer service. Our award winning sales department has developed a Preferred Customer Program with local, regional and national finance sources. With over 200 vehicles available, both new and used, Riley Toyota is easily one of the most dependable, trustworthy automotive team in Jefferson City. We'll help you find the perfect vehicle and get you on the road in no time at all.
Complete Range of Jefferson City Toyotas
Looking for a larger, SUV/pickup off-road type vehicle? Visit Riley Toyota and take a look at our large assortment of trucks. We carry the 4x2 Tacoma, 4x4 Tacoma, Tundra, Sequoia, FJ Cruiser, Highlander, RAV 4, 4 Runner and a lot more! Perhaps luxury and refinement is more up your street? No worries, we have you covered on that front as well. Find out why the award-winning Avalon is a best-seller in its respective segment. If you're just looking for a good daily driver with great fuel economy, allow us to introduce you to the economical yet fun Prius Hybrid Synergy-Drive. The Yaris and Corolla make excellent city cars too, with small dimensions to fit anywhere and a ton of space for both passengers and cargo room. If it's a hybrid you're after, may we interest you in the Toyota Hybrid Highlander and Hybrid Camry? Based on their respective standard Toyota vehicles, they offer amazing fuel efficiency and an increase in performance thanks to the electric motor's instantaneous torque.
Large New and Used Car Inventory in Jefferson City
Make sure to browse our new and used inventory. Naturally, all of our vehicles come pre-inspected and serviced, with a clean bill of health and maintenance. If you go over to the Specials segment, you can even find great deals on selected cars. It's the best way to grab the deal of the decade, century even. If it's value for money you're after, you can't beat our limited-time offer specials. We also offer financing for anyone interested. You won't find a dealer with lower rates than ours, and that's a guarantee. Want a custom payment plan? Give us a call or better yet, come down to Riley Toyota, and we can talk it over.
If you're in the area briefly or your car broke down, feel free to go over to the Rent segment on our site and check out the rent cars we have to offer. From the Corolla right up to the Tacoma and the Highlander, we have a vehicle to suit everyone's needs and budget. We also have a parts department where you can order OEM components for your car. We receive the parts directly from the manufacturer itself, so quality and reliability are guaranteed.
Last but by no means least, feel free drop by 2105 Christy, Drive Jefferson City, MO, and check out the new dealership building along with our entire inventory.