Get your Toyota Service in Missouri at Riley Toyota
For the discerning individual needing a Toyota service in Missouri, Riley Toyota in Jefferson City is the place to visit. The dealership is located at 2105 Christy Drive, and the service department can be contacted directly at 573-644-9450.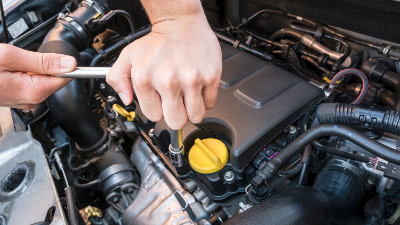 Customers can schedule service between the hours of 7:00 am and 5:30 pm Monday through Friday, and the shop is also open on Saturday from 7:00 am until 2:00 pm. Scott Struemph is the Service Manager at Riley Toyota, and with the help of his team of service advisors and technicians, he will ensure that any car brought in to be serviced receives the utmost care and attention to detail.
Although there are other places to receive a Toyota service in Missouri, Riley Toyota has been in business for over a quarter of a century. We have won numerous awards for our quality and customer service, including Kevin Riley's Time Magazine Quality Dealer Award in 2006 and "The President's Award," given by Toyota itself to recognize outstanding dealerships, in 2007, 2009, 2011, 2013, 2015, and 2016. Riley Toyota can therefore be considered one of the top Toyota dealers in the region, if not the state.
Getting a vehicle serviced at Riley Toyota is exemplary of what customer service should be. Appointments can be made by phone or online using the Virtual Service Appointment tool, and there's even an option to schedule after-hours drop-offs. Upon arrival at the dealership, the customer will find a well-appointed waiting room with access to snacks and beverages, not to mention complimentary Wi-Fi. There's even a kids' play area for busy parents who find themselves multitasking.
Of course, some people can't help but admire all the new models on the lot while they wait, and that's fine too! Riley Toyota has one of the largest and most impressive ranges of new Toyotas available in the area, and an extensive range of used vehicles to boot. But if waiting for repairs isn't an option, Riley Toyota offers a free shuttle service that will help our customers get back to their lives while their vehicles are being worked on. It's very important to the staff at Riley Toyota that our customers trust us and know they're in great hands.
Toyota Service in Missouri
The service team at Riley Toyota are all highly qualified professionals who have years of experience in diagnosis and repair. No job is too big or too small for the specialists at Riley Toyota. They perform anything from major engine work to routine maintenance like oil changes, transmission services, and brake work. If an individual is uncertain about whether or not his car really needs work, he can fill out our Ask a Toyota Technician form online or submit a Vehicle Recall Request to find out of there are outstanding safety notices of which he should be aware.
There are ongoing Service Specials to help mitigate the cost of maintenance. Riley Toyota often offers a complimentary alignment check that includes an inspection of the front-end, caster, camber and toe-in. There are additional costs if adjustments are required. Free estimates are also offered, with no obligation to have any of the work completed. All repairs even include a complimentary car wash! When it comes to costs, Riley offers some of the lowest rates in Central Missouri, and we invite buyers to compare our prices with our competitors' prices.
There are a variety of special services available at the dealership for these competitive prices. One of the most popular is the Express Maintenance package. These days, people's lives are busier than ever and sometimes it seems impossible to find time to take care of the little things, like servicing the family vehicle. That's why Riley Toyota offers Toyota Express Maintenance, which includes a tire rotation, a brake check, oil and filter change, a fluid top-off, and a multi-point inspection. All of these services are performed using a pit-crew style approach that's guaranteed to get the customer in and out in less time than it takes to make a trip to the grocery store.
One of the things that set the service department at Riley Toyota apart is the care that they put into their work and the attention that they give to their customers. They know how valuable vehicles are in people's everyday lives, and they want to make sure that no one leaves their shop with anything less than the best in care. The technicians at Riley Toyota will listen to any questions or concerns their customers might have and do the best they can to address those issues. The focus with this team is making sure that any vehicle that comes in for service leaves the shop running smoothly and safely.
In summary, the service team at Riley Toyota has both the tools and the knowledge to take care of any mechanical issue, big or small. They care about their customers and they take pride in being one of the top Toyota dealerships in the state. At Riley Toyota, the customer comes first.
Service Hours
573-658-9970
| | |
| --- | --- |
| Monday | 7:00 am - 5:30 pm |
| Tuesday | 7:00 am - 5:30 pm |
| Wednesday | 7:00 am - 5:30 pm |
| Thursday | 7:00 am - 5:30 pm |
| Friday | 7:00 am - 5:30 pm |
| Saturday | 7:00 am - 2:00 pm |
| Sunday | Closed |