Rent A Car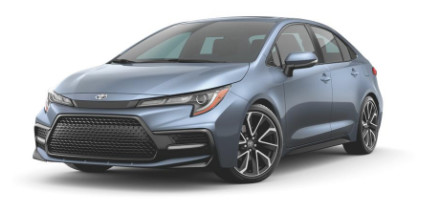 Toyota Corolla
Service Customer
Daily: $25.85
Weekly: Contact Rental Dept
Weekend: Contact Rental Dept
CITY MPG: 29
HIGHWAY MPG: 38
Non Service Customer
Daily: $35.54
Weekly: $215.38
Month: $743.04
Weekend: $59.25
Toyota Camry
Service Customer
Daily: $31.23
Weekly: $218.61
Weekend: $80.80
CITY MPG: 25
HIGHWAY MPG: 35
Non Service Customer
Daily: $46.31
Weekly: $280.08
Month: $936.88
Weekend: $80.80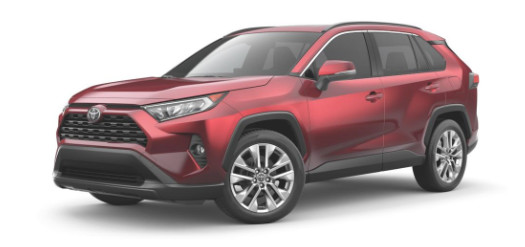 Toyota Rav4
Service Customer
Daily: $33.38
Weekly: Contact Rental Dept
Weekend: Contact Rental Dept
CITY MPG: 24
HIGHWAY MPG: 31
Non Service Customer
Daily: $50.61
Weekly: $312.32
Month: $1,076.98
Weekend: $123.87
Toyota Sienna
Service Customer
Daily: $39.85
Weekly: Contact Rental Dept
Weekend: Contact Rental Dept
CITY MPG: 18
HIGHWAY MPG: 25
Non Service Customer
Daily: $68.93
Weekly: $414.73
Month: $1,292.70
Weekend: $159.42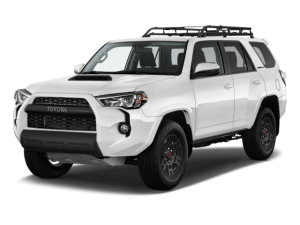 Toyota 4Runner
Service Customer
Daily: $46.31
Weekly: Contact Rental Dept
Weekend: Contact Rental Dept
Non Service Customer
Daily: $64.62
Weekly: $376.96
Month: $1,389.30
Weekend: $161.58
Jefferson City Car Rental at Riley Toyota
So you want to rent a car but aren't sure how? Don't worry; Riley Toyota is here to help. We may be a large Toyota dealership, but a lot of our customers are actually interested in purely renting a car, whether because their car broke down or they're just visiting and are in town for a few days.
Now, given the large amount of rental companies, you may wonder if there's a benefit in renting from a dealership such as ourselves. Although the short answer to that question is yes, there are several important benefits. We'll take the time to run through each and every one of them, explaining them as we go along the way.
Riley Toyota stands by its reputation as one of the best dealerships in the entire state of Missouri. For quarter of a century, Riley Toyota has been putting Missouri residents on the road and keeping them there with our excellent range of vehicles and service center that can perform every maintenance task you'll ever need. Our rental vehicles are a step above the rest – why settle for a poor vehicle from a rental company that has gone through hundreds of thousands of miles when you can be driving a superb Toyota from Riley Toyota? Let's take a look at some of the benefits and what we can offer you.


Large Fleet
Okay, let's start with the most important thing: the vehicles. Being a Toyota dealership, we have the unique opportunity to offer vehicles for rent from practically every segment.
Want a small, economical compact? The Toyota Corolla is perfect for you. Interested in something bigger perhaps? Both the Prius and the Camry do an excellent job of offering space with ample amount of performance and economy.
Need a larger SUV? Step right up to the Toyota RAV4 and the Highlander, two of the most capable, luxurious SUVs currently on the market.
If you need space we also offer the incredible Sienna, and taking care of the pickup segment is our award-winning Tacoma.
When you think about it, it's just a matter of personal preference, not whether we have it or not. Often times with third-party rental companies you're limited for choice, but not at Riley Toyota.


Maintenance
Rental cars often get abused and mistreated, we're all aware of this very well. Rather than taking care of their cars, a lot of rental companies will ignore the damage and in some cases, even bill you for the damage afterward, despite the fact that it was there when you got the car.
When renting at Riley Toyota you'll never experience this issue, for a number of reasons. For starters, all of our rental cars get maintained in our very own service shop. Our highly experienced staff has been trained to work on these specific Toyota models, so they practically know them inside and out by heart. They treat and service them as if they were a customer's car because, in reality, they are.
We only use OEM-quality components when carrying out maintenance and ensure each and every car we rent is fully road-legal, safe and most of all, in tip-top shape. In addition, we replace most rental vehicles every couple of seasons with the new models as soon as they come out. Not a lot of rental companies can say the same, if any.


The Price
Although most people would prefer a better car despite the small premium associated with it, the price is a big factor when renting a car regardless. The simple fact of the matter is we offer the lowest rates for any of our rental vehicles compared to our rivals.
If you're a service customer, you're in for a special treat. Most, if not all, of our rental cars are offered at a large discount to service customers, as a way of saying thank you for choosing us and trusting in Riley Toyota. Naturally, the longer the rental period the more the daily price goes down.


Customer Service
Needless to say, we put the customer first and everything else second. Although the chances of one of our vehicles breaking down are slim, if not nonexistent, we offer full support to anyone who experiences issues in one of our rental cars. With great insurance policies and coverage, we fully stand behind what we offer. If you're experiencing any sort of difficulties or issues, for any reason, during the rental period, you can give Riley Toyota a call and one of our staff members will be more than happy to assist you.


Renting with Riley Toyota
If you're going to be in town for a couple of days only and want us to reserve a specific car, just let us know in advance and we'll have the vehicle waiting as soon as you arrive. Although we recommend using the phone for quicker and more efficient communication, you can chat with us through the Riley Toyota website at any time. As always, if you're in the area, it's best to come down to the dealership for anything you might need.