Riley Toyota Car Dealership in Missouri
Riley Toyota is one of the most highly-rated car dealerships in Missouri for many reasons. If you are thinking of buying a new Toyota, Riley Toyota is where you should start your search.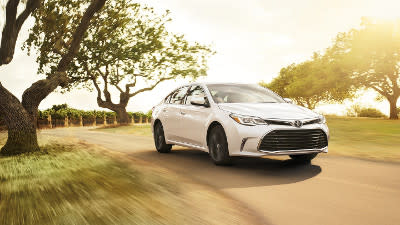 We have been in business for over two decades serving the Central Missouri region. Kevin Riley won Time Magazine's Quality Dealer Award in 2006, and the dealership itself has received Toyota's "The President's Award," the highest award offered by the manufacturer, no less than six times. For one of the best known car dealerships in Missouri and Jefferson City, Riley Toyota is a great choice.
The pristine dealership is located at 2105 Christy Drive in our home city of Jefferson City. Maps are available at www.rileytoyota.com/hours-and-directions if needed. Come stroll the lot any time between 8:00 am and 7:00 pm Monday, Wednesday, and Friday, 8:00 am and 6:00 pm Tuesday and Thursday, and 9:00 until 5:00 pm on Saturday. The sales team will be happy to help you find the perfect vehicle for you.
One of the Largest Car Dealerships in Missouri
That won't be a difficult feat at Riley Toyota, one of the most versatile car dealerships in Missouri. We have the full range of the Toyota line-up available for purchase. From heavy-duty off-road SUVs to family-friendly crossovers, from sporty coupes to luxurious sedans, we have it all. The Yaris and Corolla are excellent offerings in the compact car arena, for example, and for those wishing to go green, there are several hybrid options, which include the Prius Hybrid Synergy-Drive, the Toyota Hybrid Highlander, and the Hybrid Camry.
If you're not sure what kind of vehicle is best for you, do your research ahead of time. Riley Toyota offers a convenient research tool here on our website to help narrow down the options.
Financing and Incentives
If financing is a concern, the expert team at Riley Toyota stands ready to assist. Our goal is to help every customer get the car of his or her dreams, and we work to make that a reality. A pre-qualification application is available online for those who are interested, and checking out www.rileytoyota.com/payment-calculator can help you determine the kind of payment you can afford and how much buying power you possess. Emily Olsen and Gemma McKenna are the Finance Managers at Riley Toyota, and they can be reached at 573-658-9940. They are available to answer any questions that might arise about financing or the application process.
Furthermore, all the latest special deals can be found at www.rileytoyota.com/incentives. For the person looking for a bargain, this page definitely bears further study.
Trade-Ins
Of course, for anyone looking to buy a new car, there's usually the question of what to do with the old one. Riley Toyota has a 'We Buy Your Car' program that helps to answer that question. Simply bring your car down to the dealership and check out what's available on the lot while we assess the value of your trade. The expert technicians at Riley Toyota will perform a quick but thorough inspection so that we can make a fair offer. It's much easier than trying to sell online or through the newspaper. There's no bothersome paperwork and the process is straightforward and stress-free.
An Ironclad Warranty
One of the best reasons to buy a new car is the warranty that is included with the purchase. At Riley Toyota, that means a warranty at no additional cost. This warranty is good anywhere in the United States, and it is not a limited time program. Unlike many warranties offered at other dealerships, this warranty covers the transmission, engine, engine control computer, front and rear-wheel drive, oil pump, cylinder block, and intake manifold, just to name a few parts.
Riley Toyota's warranty is recognized at every licensed repair shop in the United States and Canada, and all that is required is that the customer follows the factory recommended maintenance schedule and to provide records indicating as much.
Your Trusted Car Dealership in Missouri
At Riley Toyota, the customer is always the first priority. From providing a website with a wealth of information and tools to assist customers before the sale to making the purchase process as easy and hassle-free as possible to providing excellent service for years after the fact, Riley Toyota wants to provide our customers with nothing but the best.
Riley Toyota has been trusted throughout the Central Missouri region for almost a quarter of a century because of our dedication to customer service and doing things the right way. The sales team focuses on a comfortable, no-pressure atmosphere and the financing team works hard to make sure that the deal that's made works for both parties. The service team will keep your Toyota on the road and running smoothly for as long as you choose to drive the car. The separate parts of the dealership come together to create one unforgettable customer service experience that will keep you coming back to us for all of your future automotive needs.